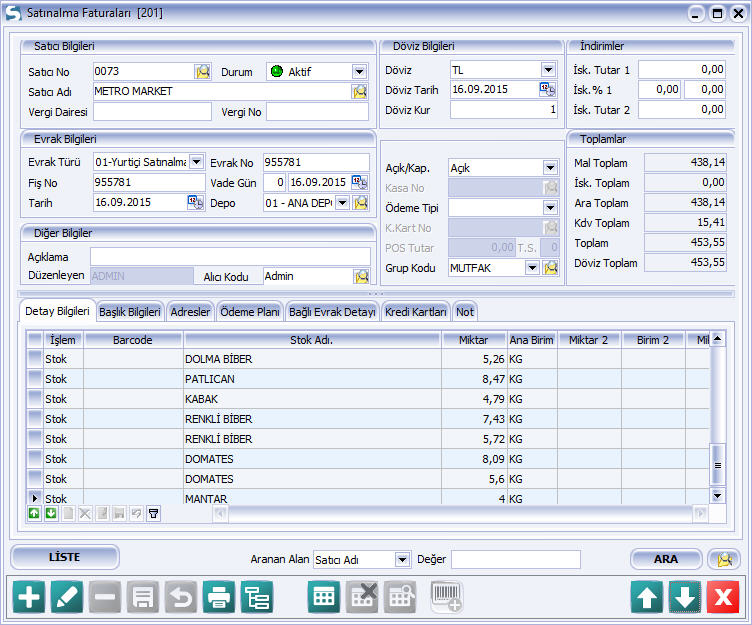 General Features
It has been developed with an object oriented and client-server architecture using current technology.
Power of MS SQL Server database, it can work with MS SQL Server 2008, 2012, 2014, 2016 and above.
It can be fully integrated into your own applications with its open database structure.
It can work smoothly with all Windows operating systems (2003 Server, 2008 Server, 2012 Server, Win7, Win8, Win10 and above).
Can work on Terminal Services.
It can be installed on terminals without requiring a license with the pool licensing option.
It shows high performance on computers with low configurations.
An unlimited number of company definitions can be made in the same database.
An unlimited number of SysMOND® applications can be started on the same terminal.
Stok Yönetimi

Detaylı stok kartları oluşturabilme
İstenilen sayıda depo tanımlayabilme
Birim dönüşümleri yapabilme
Giriş, Çıkış ve Transfer fişleri oluşturabilme
Minimum, Maximum, Kritik ve Sipariş seviye miktarları oluşturabilme
Bir mala birden fazla fiyat tanımlayabilme
Hızlı Depo Sayım fişleri ile sayım işlemlerini kolayca yapabilme
Bir mala birden fazla Barkod tanımlayabilme
Tüm barkod işlemlerini yürütebilme
Çok boyutlu stok kartları oluşturabilme (Ayakkabı – Konfeksiyon)
Malzeme ve Satın Alma talepleri oluşturabilme
Karma Koli oluşturabilme (Ramazan paketi gibi)
Bir Stok Kartına Alternatif Stok Kodları tanımlayabilme
Stok Kartına özel Teknik Parametreler tanımlayabilme
Muhasebe Entegrasyon tanımlarını oluşturabilme
Bir Stok Kartına, birden fazla resim ilişkilendirebilme
Alış ve satışlarda uygulanmak üzere Cari Hesap bazlı sözleşme tanımları oluşturabilme
Garanti-Seri-Lot-Parti takibi yapabilme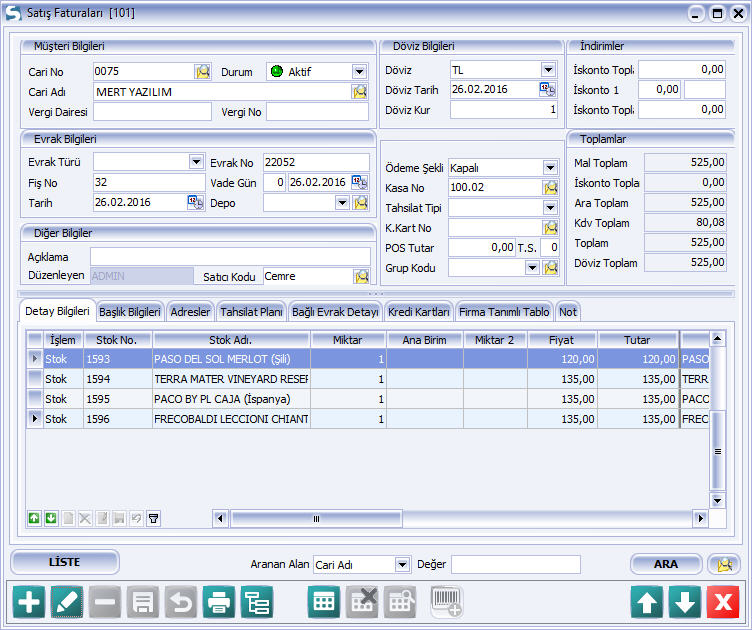 Unlimited Authorization and Efficient Security
It provides advanced authorization on the basis of user or user group in all transactions.
Keeping detailed record information (who - when entered, who - when changed etc.).
The option to save, view and print the history of all records screen-screen.
Detailed authorization of all data fields defined in the database on the basis of users.
Thanks to the document storage feature, all Word, Excel, picture and fax files related to the business can be safely stored in the database.
Authorizing all reports registered in the system according to users.
Ability to prevent even authorized users from seeing them by putting a password on the requested reports
Getting the history of querying, previewing and printing of all reports registered in the system.
Unlimited Reporting and Analysis Support
Fast, flexible and detailed reporting engine.
All reports are open source, so all reports in the system can be changed easily.
There are 5 different language options for reporting (SQL, Pascal, C ++, Basic and Java).
Ability to connect to any different database (Oracle, Access, DBase, Foxpro etc.) in the design mode of a report.
Ability to create any number of "Filter templates" for a report.
Automatic storage of filters and criteria given during reporting and reuse when required.
Ability to use "Dot Matrix" printer in all reports, receipts and notebooks.
With the "Visual Query Wizard", you can create advanced "SQL queries" without the need for SQL knowledge.
Thanks to the "Record Information", without the need to memorize the database structure, copying the SQL sentences that are created automatically on the lists and using them in other applications (Excel etc.).
Ability to receive and create comparative analysis reports based on years.
Ability to print existing records by filtering and previewing in Excel filter style while the list is on the screens.
Ability to monitor and manage pre-prepared analyzes and summary tables for any buyer, seller, stock, safe, bank etc. account by right clicking on the lists.
Advanced Help System
CHM type help files.
The opportunity to learn by seeing what is done and how thanks to the visual aid system.
Possibility to add the video and flash animations you have created for the training of your own personnel to the system thanks to visual assistance.
With the remote assistance option, you can get online help from a service person you want.